Get the Cost Savings of Bare Metal with the Support of Cloud
With IaaS from ServerPronto, you don't have to sacrifice to get the best of both worlds. Infrastructure is our core competency so you benefit from our teams, network, systems, data centers and more.


Our IaaS offering delivers the reliable and powerful server hardware and connection that your business-critical applications require. Bursting speeds and the full hardware resources are solely dedicated for your server tasks and performances, no shared computing power or memory usage. Minimum one dedicated IP is included in any of our hosting plans. Our enterprise-class hardware is dedicated to you and you only.
24/7 On-Site Technicians

Fixed Lifetime Pricing (No Billing Surprises)

100% Uptime SLA Guarantee

Free Setup / Cancel Anytime

Server Grade Hardware

SSAE 16 / SAS 70 Certified Data Center
Single Processor IaaS Servers
Dual Processor IaaS Servers
Bare metal IaaS servers continue to be the economical choice for providing an exclusive set of resources solely devoted to your IT needs. With our bare metal servers, you will benefit from increased performance, greater security and exclusive use of the servers system and network resources. Our dedicated servers are ideal for any of your services that require high traffic, high security, or complex configurations (i.e. e-commerce, dynamic content, database applications and multimedia apps) are better suited for a dedicated server.
Our customers have full root access on any of our Infrastructure as a Service package and can configure or install any application as desired (subject to AUP limitations).
IaaS - You are in control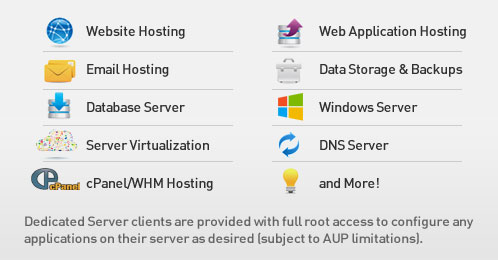 Fully Customizable IaaS
From classic web hosting to the new world of cloud virtualization, your opportunities are endless with ServerPronto IaaS. ServerPronto offers a variety of configurable options to provide you with the IaaS solution that exactly fits your needs. Here are some of our available upgrade options:
Solid State Drives (SSD) and 15k SAS Drives
RAID Options
1 Gigabit Port
Fully Managed Services
Dedicated Firewall
and more
We are committed to providing the best speed, reliability, and value in the Infrastructure business. This means constant innovation to deliver the highest performing network and customer control at the lowest price available. Whether you are using your server for web development, tinkering, email, photos, gaming, reselling, or all of the above and more, we strive to deliver a world-class product.
Our network uptime is the best in the business. Our relentless focus on value helps us deliver competitive prices every day. And we provide responsively and experienced 24/7 customer support via e-mail and our ticketing system.
Start building your IaaS today.
---
Do you want to find out more about our Cloud? Check out our Cloud Server offering.
Or are you looking for a more basic solution? Follow this link to our VPS - Virtual Private Server packages.