What can you do with your ServerPronto Dedicated Server?
ServerPronto guarantees provisioning in less than 6 hours. As soon as your ServerPronto Dedicated Server is online the list of possibilities is endless, from website hosting, application hosting to running a database server or email server, with your full root access you can run any server tasks on our secure and reliable hosting environment.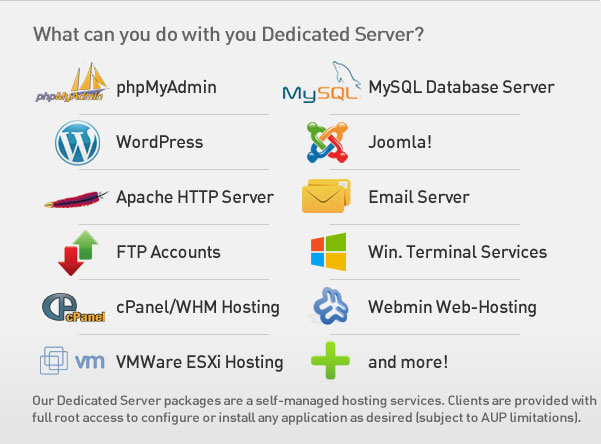 Web Hosting - ServerPronto's Dedicated Server provides you with everything you need to host your own or your client's websites. With latest data center technologies as well as highly knowledgeable and experienced technicians we ensure our customer's uptime and website speed isn't compromised at any time.
Terminal Services - Our experienced IT staff can assist you to customize your server and setup terminal services or other remote access connections so your mission-critical business applications are under one roof and accessible to your audience.
Virtualization - Chop up your powerful dedicated resources and create as many virtual machines as you need for reselling or your own IT infrastructure. We offer and pre-install VMWare ESXi or Citrix XenServer upon request. Operate your own Virtual Data Center and be fully backed up by our technical support and reliable network.
WordPress Hosting - WordPress is one of the most convenient web software solutions (CMS) available and allows you to create and manage your website or blog quick and easy. Your dedicated server environment will make it possible to install WordPress with a couple of clicks. WordPress is highly accepted throughout the Web and search engines have special algorithms to catalog WordPress sites.
Email Hosting - Dedicated Servers allow you to host reliable, easy-to-use email accounts. Set up domain names and configure unique email addresses that can be used within an email client such as Outlook, Thunderbird, Sendmail or as webmail. Your VPS email accounts can be used for personal email accounts, or business email services. Emails are sent over our secure mail relay and outgoing emails are limited to 1,000 per day (for exemption please contact support).
Open Source Hosting - With any ServerPronto's package you can install a broad variety of free open source software. Open source solutions have gained in popularity over the years and with the accessibility of the Cloud these invaluable products will become more and more important for your everyday hosting needs.
Website Builders - Content Management Systems are the most vital tool when creating, building and managing your website. ServerPronto provides you with a number of website builder options to make the design and development of your website that much easier. Use software such as Joomla, Drupal or WordPress and browse thousands of web templates and website builder resources (additional fees might apply).
Databases - Use your Dedicated Server as a database server with database tools dedicated to help you manage your MySQL and PostgreSQL databases. Your server is equipped with database management software such as phpMyAdmin, that helps you manage any number of large databases on your secure and private platform.
E-Commerce - With ServerPronto's PCI compliance (SSAE 16 certification) you can store credit cards and customer data on your secure and private hosting environment. We provide you with everything you need to make money with your website. Using well-proven online shopping cart software like osCommerce or Zen Cart you can create revenue by selling products or services online over your website.
Full Root Access - Our customers have full root access on any of our Dedicated Server packages and can configure or install any application as desired (subject to AUP limitations).
ServerPronto's Dedicated Server start at $49.95 - See all Dedicated Server packages.
---
Do you want more power and security? Check out our Cloud Server solution.
Are you looking for a more affordable option? See our VPS packages.