Advanced 24/7 Technical Support
Designed for customers and organizations that want to complement their IT staff or want to hand off their hosting services entirely, ServerPronto's complete managed hosting experience gives you access to advanced IT capabilities and fully managed hosting services. Our pick-and-choose management services include everything from full system administration, advanced monitoring, backup solutions, OS and application troubleshooting and beyond. To help you free up your resources, so you can focus on your business interests, we take care of your IT infrastructure with our dedicated staff.
The complete Solution on all Layers – Experience it now.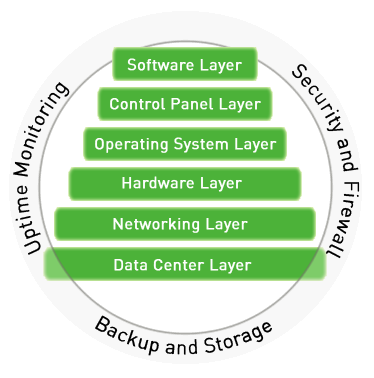 Add our Managed Services a la Carte
Fully Managed:
Support
Your managed hosting solution includes 24/7 technical support over phone, chat and our ticketing system. Our Level 3 technicians are available to you when you need them, with more than 10 years of experience our staff is committed to resolve the most advanced hardware and software issues and assist you beyond the problem solution, on any layer of the spectrum.
Uptime Monitoring
We monitor your server 24-hours, 365-days of the year to alert, prevent and resolve any accessibility abnormalities before they become an issue. A reliable monitoring strategy is vital to any system administrator and with your managed hosting solution your server is placed front and center on our tech staff ping monitor. Any indication of lost packages or unresponsiveness of your server will alert our technicians and immediate actions will be taken to keep your server accessible.
System Administration
Beyond 24/7 technical support, ServerPronto offers on-demand system administration of 3 hours per month. As needed, we can also provide you with a Lantronix SecureLinx Spider IPKVM at a request, to give you remote console access to your server at any time whether your server is responsive or not. Of course, our KVM assistance is included for troubleshooting, custom OS installations and more. As your system admin, we further offer you unlimited Setup Assistance on eligible software packages.
Managed Firewall:
Security
Server security ranging from your dedicated firewall to regular software patches to keep your managed server protected and your system up-to-date. Anti-Virus security and email spam filter software are installed and updated on-demand on any managed ServerPronto server to build a shield between your environment and any malicious activity. With your included managed hardware firewall, we can further control for you who gets access to your server and work preventatively against DDoS attacks (please be advised that this is not a full DDoS protection system). Upon request our experienced team of administrators will also perform security audits on your server, these scans focus on the base operating system as well as core software applications.
Managed Backup:
Backup and Storage
Keeping your data safe and secure is of the highest priority for us, therefore your managed dedicated server comes with the choice of multiple backup solutions. Select the amount of managed backup you need for your operations and we set up automated backups running daily, weekly and monthly to secure your critical data regularly. Furthermore, fully managed servers come with multiple hard drives and hardware fault tolerant RAID on an Enterprise grade hardware RAID controller. With your backup and RAID configuration, your data is stored on multiple disks and devices and prevents possible data loss in case of a hardware failure.
Choose your Managed Services on the order form:
Fully Managed - $100/month includes:

- Server Setup: Configure DNS, FTP, email and website (3 hours per server per month)
- Server Migrations (on selected platforms)
- Uptime Monitoring: 24/7 system that alerts, prevents and resolves connectivity issues
- Managed Data Backup (50GB)
- Server Administration
- Hardware RAID
- Kernel & OS updates
- Firewall configurations
- Managed Firewall
- Security audits
- IP/KVM
- Priority Tech Support: Immediate response and dispatch of a tech for your support ticket
- Check on trouble-shooting updates over email, live-chat and phone
Managed Dedicated Firewall - $49/month:

- Hardware Firewall installation and management
- Firewall rules configuration
- Web-Console setup
Managed Backup - starting at $15/month:

- Frequent Backups on your schedule (Daily, Weekly, Monthly)
- Complete Backups: Data, Applications and Operating System Configurations
- Quick Recovery and Fast System Restore
ServerPronto's managed dedicated servers start at $49.95/month (managed options not included in price).