What is a Private Cloud?
Private Cloud hosting provides you with industry best level security and scalability. Operate your own OpenStack, Hyper-V, or OnApp Private Cloud distributed over multiple Dell dedicated servers (hypervisors) including a enterprise-level cloud management system. Looking for blazing fast performance, inquire about our all SSD cloud. As with all ServerPronto products, Private Clouds come fully provisioned and configured and are backed-up by our 24x7x365 Technical Support.
Just choose your Private Cloud package to get started:
Independent Cloud Environment
Hosted on dedicated hardware within our fault-tolerant network, your Private Cloud gives you the control, performance and security you need for your business. With your administrative Cloud Control Panel you have full access and control over your redundant cloud system. Deploy Virtual Machines as needed, allocate resources, create virtual private networks within your cloud or make your VMs available in the internet.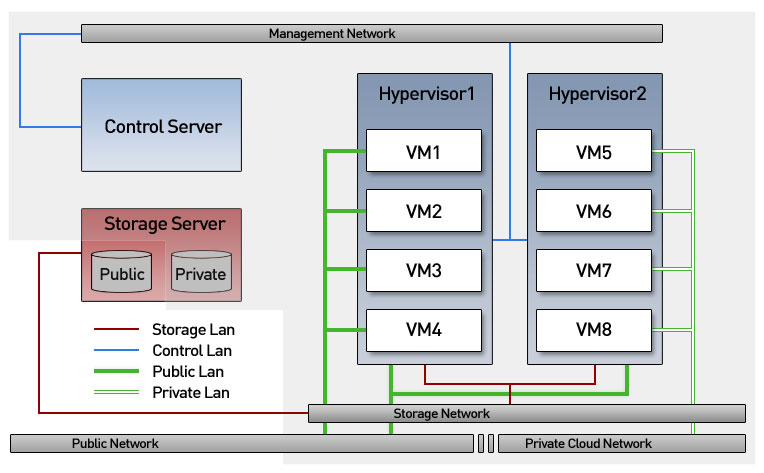 Your cloud environment consists out of three main hardware parts:
Hypervisors, where you create the virtual machines on
Network storage device (SAN)
Control server, to manage your hypervisors, VMs and backups
To realize this redundant cloud system and put it into action, your cloud runs on at least four dedicated servers and an uplink to a network storage device. All provisioning and cloud configuration is done by us, you just get handed over the access credentials to your administrative cloud control panel.
OpenStack or OnApp - It's Your Choice
The ServerPronto Private Cloud comes fully equipped with an enterprise-level cloud control portal to manage the virtual machines, hypervisors and networks on your cloud. Choose between:
OpenStack delivers a scalable open source cloud operating system that controls a large pool of compute, storage and networking resources. Through a dashboard it gives administrators full control to empower users to provision virtual servers.
OnApp is a complete cloud management platform that handles everything from cloud setup and virtual machine management to failover, load-balancing, auto-scaling, billing and user management. With an user-friendly administrator control panel OnApp makes it easy to manage your cloud service.
Detailed Specifications
Review the detailed specifications of our two Private Cloud packages and choose the server setup that suits your business needs. Upgrades and customization is available upon request.
1x Control Panel Server

Intel Xeon Quad-Core X3220
8GB RAM
2x 500GB HDD

2x Hypervisor Servers

Intel Xeon 2x Quad-Core E5530
32GB RAM
4x 1TB HDD

1x Backup Server

Intel Xeon Quad-Core X3220
8GB RAM
2x 2TB HDD

1x Control Panel Server

Intel Xeon Quad-Core X3220
8GB RAM
2x 500GB HDD

4x Hypervisor Servers

Intel Xeon 2x Quad-Core E5530
64GB RAM
4x 1TB HDD

1x Backup Server

Intel Xeon Quad-Core X3220
8GB RAM
2x 3TB HDD
Please contact our Private Cloud specialists for any questions or customizations: