Build on one platform, deploy to AWS, Azure, or Bare Metal.
Cut Your Cloud Bill

Orchestrate Cloud with No Code

Deploy in Minutes

Access Powerful Tools

Scale Globally on One Platform

Template for Simplified Workflows

Code, Deploy, and Manage your cloud-native web applications without any platform dependency.
A shared and fully managed cloud environment for your to build and deploy your cloud-native web applications.
4 Intel CPU Cores
4 x 2.4GHz
8GB RAM
20GB SSD HD
4TB Traffic
Configure Now
A private cloud environment with no noisy neighbors and full customizability.
3 Private Dedicated Servers
12 Intel CPU Cores (4 cores/ server)
4 x 2.4GHz
24GB RAM (8GB/ server)
720GB SSD HD (240GB/ server)
12TB Traffic
Configure Now
All the processing power and speed you need to build and deploy even the most robust applications.
3 Private Dedicated Servers
36 Intel CPU Cores (12 cores/ server)
4 x 2.4GHz
288GB RAM (96GB/ server)
1.5TB SSD HD (500GB/ server)
90TB Traffic
Configure Now
Finally, a multi-cloud infrastructure built for scale.
When you deploy a Serverpronto Kubernetes Cloud allows you to code, deploy, and manage web applications at record speed -without worrying about server or devops.
Scale Anywhere on One
Platform

Orchestrate Cloud




with No Code, Flexible

Centralize & manage multiple cloud distributors on one platform.





Spend time working on application code, not infrastructure code.

Stop wasting time building clusters from scratch.
An evolving platform that constantly improves the way to deploy your containers (applications), following updates and libraries; Kubernetes has become immensely popular for so many reasons. It works neatly as a controlled environment for hundreds, or even thousands, of containers (the customized code) that run complex applications for companies.
How The Cloud Platform Works
Gain powerful features for your powerful applications
| | | |
| --- | --- | --- |
| Project Templates For Simplified Workflows | | Automated Deployment and Execution Policy |
| All your DevOps team to create, manage, and iterate on software development projects In one application. | Gain real-time monitoring, performance visibility, and uptime for all your cloud-powered applications | Identify and automate policies across cloud environments to meet security and compliance. |
| | | |
| | | |
| --- | --- | --- |
| Single-Pane Management for All Your Cloud Targets | | Container Base Deployments |
| Unify data or interfaces across different sources and showcase them in a single view | Utilize ongoing automation and continuous monitoring at all stages of app development. Integrate new code seamlessly. | Have your cloud containers distributed across all clouds, including deployments on our own maintained Kubernetes cluster. |
A Ready-To-Deploy System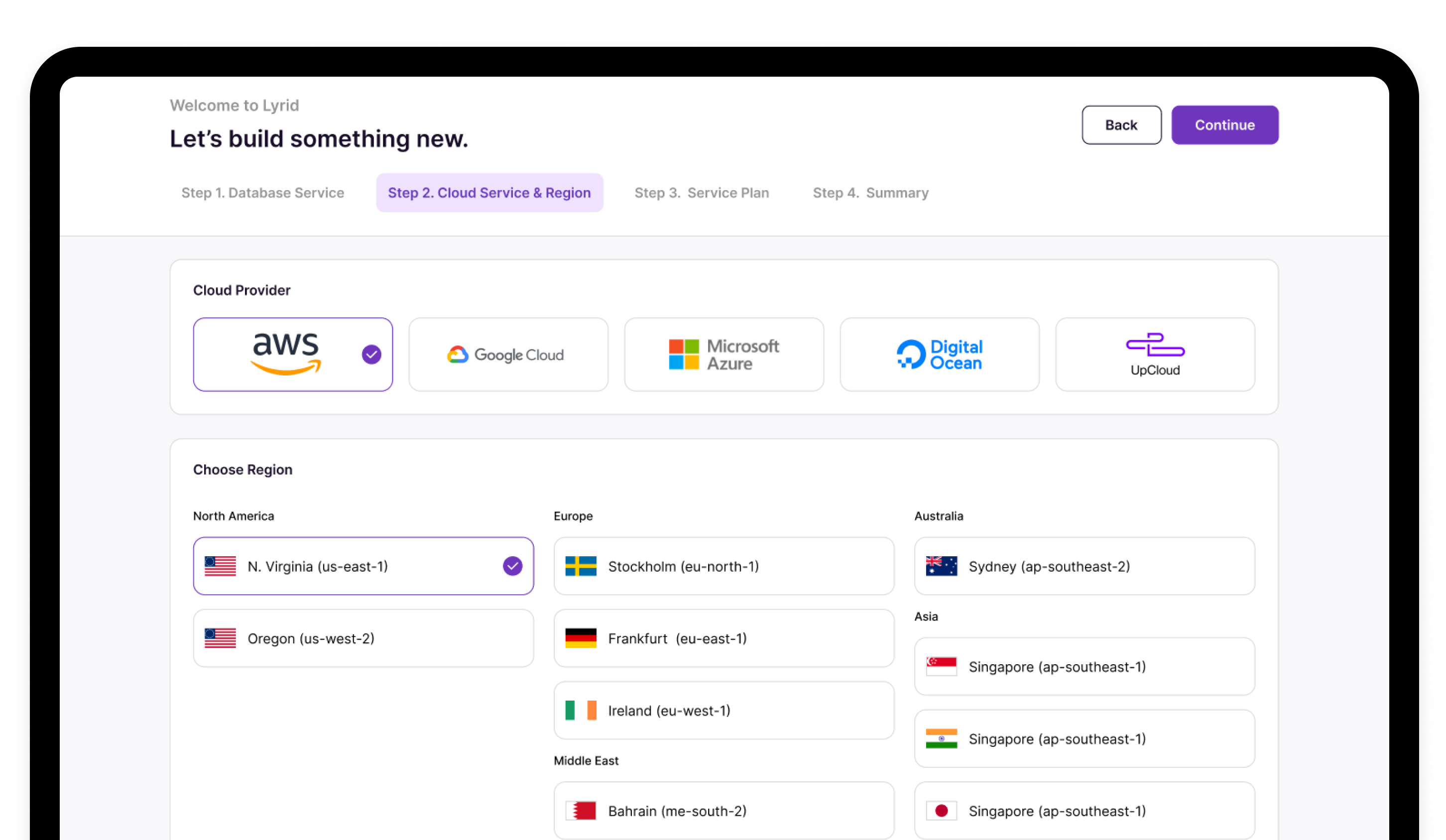 If you want to roll out multiple iterations and improvements of your application, this may be the perfect system for you. As Kubernetes is designed for deployment, the system is packed with several useful features such as automated rollbacks, programming languages, and frameworks.
It also monitors your application health to ensure it does not kill all your instances at once. Should there be any failures, the system automatically rolls back to the previous iteration.
The system also supports a broad spectrum of programming languages and frameworks such as :

Java, Go, Python, Node.js, Ruby, PHP, Golang, .NET, Ballerina, and custom runtimes.
Use A Language You Know

Use whatever language that you are comfortable with. Deploy apps fast as you can build the way you are used to.
We make it work on any cloud service, on our hosted infrastructure or even on-premise.
Browse the Lyrid GitHub page to check out the current supported code templates, and you will be able to kickstart your project in no time!
Excellent Protection Launch
Kubernetes is excellent in guarding your applications against failures by constantly checking the health of your nodes and containers. It also offers self-healing and automatic replacement. This means it can restart failed containers, replace and reschedule containers when nodes die, as well as killing containers that do not respond to your user-defined health check.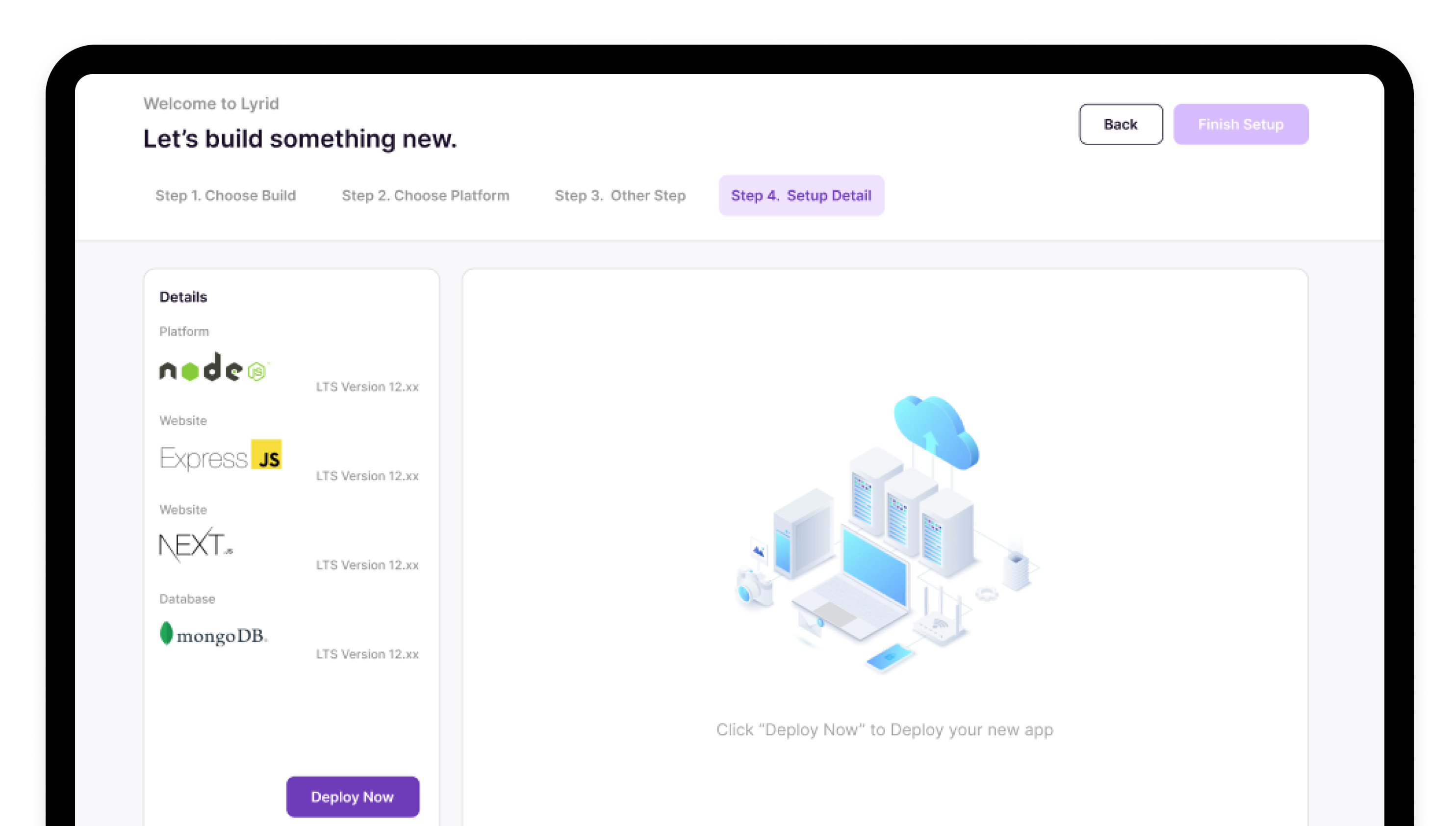 How Does Kubernetes Work?
Think of it as a way to fast-track productivity when wanting to improve how your application systems work; making it possible to deploy application changes in rapid time. Simple for utilizing clusters to their potential with minimal configurations and ability to connect your infrastructure with other clouds provided by Lyrid.
And the best part about Kubernetes is that you get numerous perks such as: flexibility, scalability, and multi-cloud capability. Efficiency and getting the job done with less manual labor? That's what we're talking about! Automate your application systems, service deployments and manage containers with ease.
Kubernetes is an open-source orchestration tool for all your needed containers (application systems). It combines the flexibility of working with different container runtimes and underlying infrastructures (private, public, or on-premise servers), with the scalability of being able to host new storage & add custom metrics that fit your company's KPIs.
ServerPronto's Dedicated Server Revolution

With a Kubernetes platform backed by ServerPronto, you'll have infrastructure experience and reliability on your side. Based on our research, your costs are able to go as low as 50% less than what the average public cloud vendor charges. All while having complete control over your own customized platform for your containers (custom application codes).
The Benefits:
1 Hour average Provisioning Time
Free Setup Assist Service
99.9% Uptime Guarantee
Full Root Access
24/7 Hardware Replacement
24/7/365 Customer Support
7-day Money Back Guarantee
and more!
At ServerPronto, we are committed to providing the best speed, reliability, and value in the dedicated server business. This means constant innovation to deliver the highest performing network and customer control at the lowest price available. Whether you are using your server for web development, tinkering, email, photos, gaming, reselling, or all of the above and more, we strive to deliver a world-class product.
Our network uptime is the best in the business. Our relentless focus on value helps us deliver competitive prices every day. And we provide responsible and experienced 24/7 customer support via e-mail and our ticketing system.
Customize your dedicated server today.
---
Do you want to find out more about our Cloud? Check out our Cloud Server offering.
Or are you looking for a more basic solution? Follow this link to our VPS - Virtual Private Server packages.