With a Virtual Private Server, you get computing resources on a virtual environment hosted on multiple physical servers. Because your virtual server doesn't rely on a single dedicated server but automatically moves to the first available host a fault tolerant hosting platform can be guaranteed. VPS Hosting provides you a complete web hosting solution, with the operating system of your choice installed and full root access, by keeping you at an affordable budget.
ServerPronto VPS Technology
Our VPS solution offers a reliable hosting environment with 99.99% uptime guaranteed. Developed in-house by our technicians and product developers this multi-tenant hosting platform is distributed over full racks of DELL Cloud Platform dedicated servers to make sure that a single-server failure is not affecting your virtual server. The VPSs are hosted at our SSAE-16 Certified Data Center with N+1 Fault-Tolerant network infrastructure and up to 1 Gbps connection server speeds.
What can you do with your Virtual Private Server?
Host your website or use our VPS as a development environment, the possibilities are endless.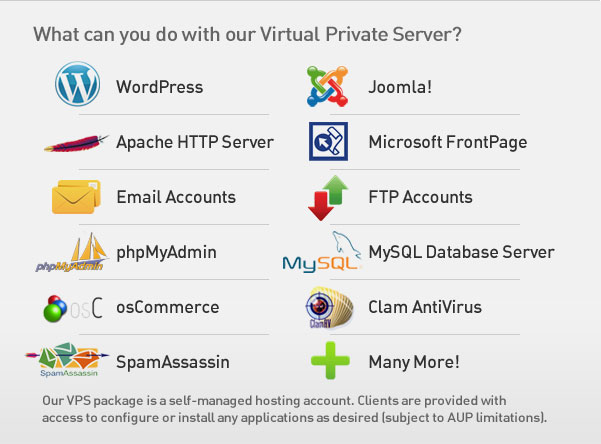 Web Hosting - ServerPronto's VPS provides you with everything you need to host your own or your client's websites. With latest data center technologies as well as highly knowledgeable and experienced technicians we ensure our customer's uptime and website speed isn't compromised at any time.
WordPress Hosting - WordPress is one of the most convenient web software solutions (CMS) available and allows you to create and manage your website or blog quick and easy. Your VPS hosting account will make it possible to install WordPress with one click. WordPress is highly accepted throughout the Web and search engines have special algorithms to catalog WordPress sites.
Email Hosting - VPS hosting accounts also come with reliable, easy-to-use email accounts. Set up domain names and configure unique email addresses that can be used within an email client such as Outlook, Outlook Express, and Thunderbird or as webmail. Included in every solution, we offer mail forwarding, anti-SPAM software, and mailing lists. Your VPS email accounts can be used for personal email accounts or business email services.
Open Source Hosting - With ServerPronto's VPS you can install a broad variety of free open source software. Open source solutions have gained in popularity over the years and with the accessibility of the Cloud, these invaluable products will become more and more important for your everyday hosting needs.
Website Builders - Content Management Systems are the most vital tool when creating, building and managing your website. ServerPronto's VPS provides you with a number of website builder options to make the design and development of your website that much easier. Use software such as Joomla, Drupal or WordPress and browse thousands of web templates and website builder resources.
Databases - Use your VPS web hosting account as a database server with database tools dedicated to helping you manage your MySQL and PostgreSQL databases. Your hosting account is equipped with database management software such as phpMyAdmin, that helps you manage any number of large databases on each of your hosting accounts.
E-Commerce - ServerPronto's VPS provides you with everything you need to make money with your website. Using well-proven online shopping cart software like osCommerce or Zen Cart you can create revenue by selling products or services online over your website.
ServerPronto's VPS start at $11.95 and including cPanel at $19.95.
---
Do you want more power and security? Check out our Cloud Server solution.
Or are you looking for fully dedicated resources? Find out more about our Dedicated Server packages.